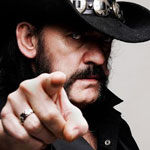 In anticipation of Motörhead's show in Minsk on 27 July, Metalscript.Net has managed to get in touch with iconic bandleader Lemmy Kilmister and make sure that Motörhead are "still alive and kicking ass".
Do you remember your first show in Belarus? What aftertaste did you get? What's your general impression of this country?
It is quite a while ago when we played in Belarus. The girls are unbelievable pretty, that's what I remember and the audience welcomed us very heartwarming, we didn't see so much of the country.
Once you promised that Motörhead would be 'the dirtiest rock n' roll band in the world'. Looking back to Motörhead's almost 40-year history, do you think you've managed to fulfill your promise?
Don't know if this was a promise we made and if we fulfilled ones expectations? It is our life and we are still good in what we are doing
From your perspective, what major changes have occurred in music industry during the 40-year period?
It all changed. The artist is just a work project and young bands have almost no chance unless they are going via the internet. It is about business and profit only, fun and enjoyment is not on the list anymore.
As far as we know, you call Motörhead's style nothing but rock'n'roll? Could you enumerate the top 5 things you've done for rock'n'roll music?
I don't think we have 'done' anything special. We just play rock'n'roll.
Before Aftershock was released, there had been rumors that the album would be all covers. So taking into account that Motörhead is enthusiastic about recording covers, what songs would you like to remake in future?
There are always rumours of something. We were thinking about doing a cover album but I guess we have problems finding the right tracks pleasing each member and it has to fit as well.
And vice versa, Motörhead has always been the subject of tribute albums. Do you appreciate this trend? What Motörhead covers do you like or dislike most?
Most of them we've never heard, always someone covering someone. I do it with HeadCat – all the old songs.
A few years ago during Motörhead's performance at Sonisphere, there were two girls on stage breathing fire. What if something alike happened in Minsk?
This was planned and you need permission for this to use fire on stage. We hired the firefighter girls for some shows.
How do you treat stage diving or other crazy acts of fans during your shows?
None of us is doing stage diving and if the fans in the audience are crowd surfing, fine by us – no one should get hurt, that's the first priority
Do you like surprises in general? What are the most excited pleasant things, such as Metallica a la Motörhead, that you've ever experienced in your life?
That was funny – no, I'm not really into surprises.
Recently your face has miraculously appeared on a pancake. What other miracles have you ever experienced, for instance during your shows or recording sessions? Do you believe in miracles at all?
Never heard about the pancake one, too many jokes and 'miracles' out there. It is a miracle that we are still alive and kicking ass!
Vera V
We'd like to give special thanks to Motörhead's promotör Ute Kromrey for making this interview possible.