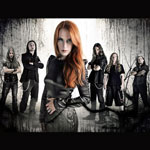 A few days before Epica, a symphonic metal flagship band from the Netherlands, plays in Minsk, Metalscript.Net has contacted Mark Jansen and asked him some fan questions about the band's forthcoming album, life in the freedom-loving Netherlands, and the influence of the financial crisis on the metal music industry.
– To begin with, having sifted through various information on Epica, we've found out that you guys are really very cheerful. But your music is rather lyrical. Tell us, please, do you enjoy spleen and melancholy or is such heavy metal stuff untypical of you?
– Our music is a reflection of how we sometimes feel. On stage we feel very good in general and want to have as much fun as possible.
– In one of your interviews, you've mentioned that Epica's songs are often inspired by new music that you listen to. What do you think about the stand of some other bands who satiate with the music they play and prefer silence to other bands' music or do not listen to it on principle, trying to avoid its influence on their creative process?
– Everybody has to do what they prefer. Music is always a result of other music which was written in the past already. And there's nothing wrong with that. Big inventions could be made because of other inventions in the past. If you don't want to listen to other bands you miss quite some great art created by other creative minds. It would be a pity, wouldn't it? :)
– What are the latest music discoveries that impressed you? And what are your, so to say, timeless music preferences?
– Anathema has impressed me a lot by their latest work, "Weather Systems". I have listened to that album over and over again. My timeless music preferences are Clannad and Rachmaninov.
– You created Epica when the popularity of symphonic metal and the "beauty and the beast" vocal style was on the wane. At that time, such "pillars" as Within Temptation and Theatre of Tragedy started swerving from this style with their sound getting closer to rock and pop music. (Although, it may, vice versa, attest to the fact that the style you've chosen was in the saddle, what do you think?) So how have you managed to become the kings of symphonic metal on the world stage? Was your way to success easy? Have your participation in After Forever helped you somehow?
– My time in After Forever has surely helped me, I have learned a lot those 7 years in that band. We started as kids and 7 years later I left a successful band. The way to success is easy for some bands but we surely had to fight for our place, especially the early years. In the beginning we were sometimes seen as a clone of After Forever while I couldn't help making music that I love myself. That's why I'm still around and still making the music that I like the most. When you do what you truly love doing you're in the right place.
– One of the questions of your fans also touches upon After Forever. Was there anything you were not able to express musically in After Forever, but expressed in Epica?
– No, in After Forever I experienced a great chemistry with the other guys which resulted in two great albums, "Prison of Desire" and "Decipher". But after those albums the chemistry between us was gone and I found it back with Epica with some new guys. I just continued where I stopped with new guys. I just experienced even more freedom than before. So in the end it was a blessing for me.
– One more question from your Belarusian fans. Not long before Retrospect, you asked people on Facebook who they wanted to see at the anniversary show. So who they wanted to invite to the show, but failed? What names on the list surprised you most?
– We were trying to get Tarja and she also wanted to come but she didn't know if she could make it as she has a tight schedule herself with her new album. After some months it appeared that the schedules didn't match unfortunately. It would have been the cherry on our cake but sometimes things don't go the way you hope them to happen. Needless to say that we were also very happy with the guests we could get. Floor did an amazing job and Ad, Yves and Jeroen played one song with us.
– As experience shows, many people who like symphonic metal stop listening to it with time: some people consider it to be too complicated and pompous while others stick to classical music, having grown out of metal. Why and in what way does symphonic metal still attract you? How could you describe the magic of this music for those who are not quite familiar with this particular style?
– As long as it brings us joy to perform and play symphonic metal we will keep on going. There's still a fire burning inside of all of us which gives us the energy to write new songs and try to create the best possible album.
In my free time I don't listen much to metal, but on festivals I still enjoy listening to metal bands a lot.
– Your album "Requiem for the Indifferent" has received mixed reviews. Some listeners consider it to be not so bright especially in comparison with "Design Your Universe". But critics, vice versa, have rated it quite high. Perhaps, fans have failed to recognize some of your musical findings that require thoughtful and profound analysis at once. But what is your evaluation of this release?
– It's a release that requires many spins before it reveals it's splendour. We found out that nowadays not many people are willing to give an album that much time. Among those journalists who did give it time we received some very good rates. It was an album we felt we should make. More progressive, less easy listening. I am happy we followed our hearts but the next album will be more melodic again.
– By the way, as far as we know, "Requiem for the Indifferent", has been dedicated to the financial crisis. And has the crisis affected somehow Epica, its members, and the Dutch metal-industry?
– Not so much, we can still play shows and tour around the world. But many record companies are shutting down and also many studios are closing their doors. This is not just because of the financial crisis but also because of downloading and home studio recordings.
– Have you already started doing the ground work of your next album? What do you want it to be? One of your fans wonders whether your 6th album will be made in the spirit of "Design Your Universe" or "Requiem for the Indifferent"?
– Yes, we have started working on the albums and there are more or less 15 tracks written now. However, there's a lot of work left to be done. It's an album in the spirit of "Design Your Universe" but also contains elements of earlier albums and some new vibes.
– In one of your recent interviews you've mentioned that some festivals reject your participation requests, because they choose Within Temptation. How does it happen, on the whole? First, they send invitations and then figure out the final list from those who accepted it, don't they? Could you reveal some of those backstage secrets?
– I mean to say, often festivals chose for one symphonic band at the time. So it can happen that they want us but can get Within Temptation and therefore don't want us anymore as they have already 1 band in the symphonic corner. It's just the way it works.
Backstage secrets? It's not as exciting to be backstage as many people think, it's often even rather boring out there, haha.
– There are plenty of successful and famous metal bands in Holland. There are plenty of metal bands in Вelarus too, thought the majority of them stay in the underground. The number of musicians here influences the number of listeners: everyone is eager to perform, but shows, especially local ones, lack audience. Does the same problem exist in the Netherlands? Do you visit concerts as a spectator?
– As I play on quite some festivals myself, I get to see many bands so when I am back home I don't feel the urge to visit any other concerts. In general gigs in theNetherlandsare very well visited but of course shows with underground bands get fewer visitors as not many people know those bands (yet). But there are many good bands among them.
– When did Epica manage to do without any additional work? When did you start making your living as musicians only?
– I've never had any other job, I studied psychology and when I finished my studies, Epica was already a touring band. Some guys of Epica have still some side jobs by the way. Also to have some variation.
– You live in Holland, so could you dispel or confirm some stereotypes associated with your country? Do you really smoke weed and eat herring? Have you ever visited red-light district ladies?
– Almost everyone would say the same but I can say with the hand on my heart that I never visited any red light district lady. Of course I have visited the district itself inAmsterdam, I'm curious like any other tourist but I would never pay for sex. I smoked weed when I was 16 but I quit after a few times. In theNetherlandsthere's no weed problem, in countries where it's forbidden to smoke more people smoke weed. Herring is disgusting I never eat it haha.
– One of our readers also asks you when each of you is going to marry.
– That's part of our privacy ;-)
– Europe has just watched Eurovision. So our readers would like to know whether Epica or Simone on her own wanted to participate in this song contest.
– I would never say never but the chance is very small. Most things which are too commercial and driven by money are not my cup of tea. In theNetherlandsthe people who decide about songfest selection have probably never heard about us anyway.
– And our last but not least question. No doubt you'll be packing suitcases for your tour in no time. What are you going to take with you beside musical instruments, costumes and casual clothes, especially leaving for a country like Belarus that's not so familiar to you?
– iPod, laptop, books, magazines. Basically what I always take with me on tour :)
http://www.youtube.com/watch?v=SOq3D0Cyn5g