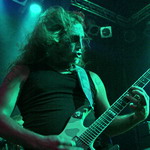 In april legendary swedish black-metal band Marduk had visited Minsk. Before the show Metalscript.net took an exclusive blitz interview with a band's guitarist Morgan.
So, your band is known as the most blasphemer band in the world. How do you imagine your afterlife?
I don't really think about it – I'm fully occupied with this life – living here and exploring this life. It takes too much time to think about afterlife – we'll think about that in the future.
What is the most ridiculous rumor about your band?
Of course there was a lot of shit – rumors, cancelled shows… I even cant mention one of them cause there are always stupid things and stupid people.
I heard a legend that after the Mayhem ex-vocalist Dead's suicide you've received the piece of his skull. Is it true?
Yes, I still have it
D'you keep it at home?
Yes, I have a special shrine for it)))
What do your parent's think about your musical career?
I don't think my mother really appreciate the music we are doing but she respects that I do what I wanna do and I have a success and she proud of me.
What about you other relatives – sisters, brothers… wife?
Oh I don't know… I have some relatives but I have no high concern with all of them so I don't really know and I don't really care.
Your first 2 concerts in Minsk were cancelled and this one is the third attempt – we have a proverb in Belarus that God loves trinity – isn't it a proof that God loves Marduk?
I think if he don't  I sure someone else do) We had a problems with cancelling the shows but now we are here and it shows the strength of our will and the strength of our weapons)))
Marduk is true black metal band and in your opinion – what's more important – to be true, or be popular and to have a lot of money?
Whatever you do in your life – you gotta be true other way you'll never gain success. Our music is what we do for 20 years and if we get money – I don't mind it but we prefer to do what we do. We always go our own way and we'll newer lick anybody's ass.
Репортпаж с MassaBrutto Fest XII – Marduk, Sceptic, Deathbringer etc – 29.04.10
Marduk: Что бы вы ни делали, надо быть искренними. Интервью.