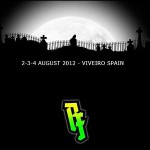 В испанском городке Viveiro на берегу Атлантического океана состоится Resurrection Fest 2012. Трехдневный опен-эйр пройдет со 2 по 4 августа.
Лайн-ап Resurrection Fest в этом году представлен следующими командами:
DESCENDENTS, SUICIDAL TENDENCIES, DEAD KENNEDYS, ANTI-FLAG, AT THE GATES, HATEBREED, AGAINST ME!, GLASSJAW, GOOD RIDDANCE, SOZIEDAD ALKOHOLIKA, THE BLACK DAHLIA MURDER, CONVERGE, SUICIDE SILENCE, AGNOSTIC FRONT, MUNICIPAL WASTE, NASUM, H2O, BERRI TXARRAK, REEL BIG FISH, UNEARTH, ANGELUS APATRIDA, PIANOS BECOME THE TEETH, SET YOUR GOALS, MXPX, SKARHEAD, DEEZ NUTS, THIS IS HELL, MORE THAN A THOUSAND, PROUD´Z, HERE COMES THE KRAKEN, THE EYES, CRISIX, GIVE EM BLOOD, ADRIFT, G.A.S. DRUMMERS, PRIMITIVE.
Билеты стоят от 55 евро.